Assembloids
puzzle game for Commodore 64, 2012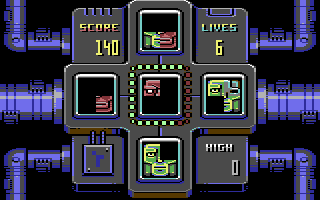 ------------------------------------------------------------------------------
Use Control Port 2.

HOW TO PLAY:
Move Joystick into the four directions to place the center
tile into one of the adjacent windows before the time runs
out (represented by the LEDs around the centre). Try to 
assemble as complete faces as possible. There are four 
different faces consisting of four tiles each.
To add some fun, the game speeds up during play...

SCORING:
You achieve 10 points for a completely mixed face,
40 points for a part mixed face and 100 points in case 
only one tile is out of place. For a complete face you 
score a whopping 300 points and another 500 points + extra
life whenever you were able to clean the complete board!

After Game Over a four digit CODE will be displayed in 
white letters. This code always corresponds to the current
HIGH SCORE. You may note it down ALONG WITH THE HIGHSCORE
and email it with your name/handle to assembloids@enthusi.de

DETAILS:
When you don't touch the joystick for a while outside
of the game, you enter the ATTRACT MODE, i.e., the screens
fade out after a while and you can watch the computer playing
a few rounds automatically. You will know by the background tune
that you are in attract mode. At any time you can exit the 
attract mode my moving any joystick.


------------------------------------------------------------------------------
Some useful keyboard shortcuts
------------------------------------------------------------------------------
       [PAUSE] - stop/continue game
          [F9] - quick load game state
         [F12] - quick save game state (still stored after leaving the site)
         [F10] - toggle performance meter
         [F11] - toggle fullscreen mode
  [ScrollLock] - quick switch control ports
    [PageDown] - make a screenshot (320x200)