Cliff Hanger
western action game for Commodore 64, 1984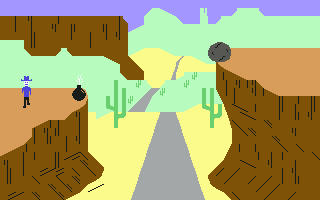 ------------------------------------------------------------------------------
Use Control Port 2.

When the game asking your name use the UP and DOWN directions
to choose letters and FIRE to confirm it.

You have to kill the bandit. You do this by using Wile E. Coyote-ish 
methods, such as shoving a rock off the cliff and onto the bandit.  

The game takes place in a desert (where else?).

Hint #1: Don't step too close to those edges!!  If you are one step 
away from an edge, you better just stand still, cause if you try 
and move, you will fall off instead!  Falling off the top edge is 
ALWAYS fatal!  Falling off the side or bottom edges does not 
always result in your death.  On some screens, you will float UP 
in a parachute (I know, it defies gravity, but so what!).

On others, you will float away with the help of your bubble gum.  
However, the bandit can shoot your bubble, and make you fall back 
down to your death!

Hint #2: You must be positioned exactly right to jump off the edge 
onto objects such as see-saws, trampolines, etc.  In any such case, 
you will START at the right level, and only have to walk sideways.

Hint #3: On the level two screens, watch out for rocks that come 
back to crush you if you miss the bandit!

Hint #4: On many screens, you must move a certain direction at 
exactly the right moment. (eg. on The Seesaw's Revenge, you must 
move RIGHT just after you land on the seesaw to jump to the other 
side and not get crunched by the rock.


------------------------------------------------------------------------------
Some useful keyboard shortcuts
------------------------------------------------------------------------------
       [PAUSE] - stop/continue game
          [F9] - quick load game state
         [F12] - quick save game state (still stored after leaving the site)
         [F10] - toggle performance meter
         [F11] - toggle fullscreen mode
  [ScrollLock] - quick switch control ports
    [PageDown] - make a screenshot (320x200)