Elektrix
platform game for Commodore 64, 1986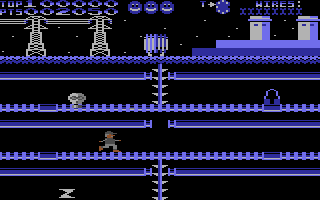 ------------------------------------------------------------------------------
Electrix is a flick-screen platformer where you are an electrician tasked to
fix the underground cables of a Powerstation in Los Angeles, sabotaged by
vandals over 20 levels against the clock. Each level is made up of various
screens with three rows underground and a row above ground connected by
ladders and on the rows underground are broken wires that have to be run over
to fix. As you fix the ten wires needed to complete a level, there are
various creatures that move across each screen and these have to be avoided
or you lose one of three lives. Various electrical equipment can be collected
as well for bonus points.


------------------------------------------------------------------------------
Some useful keyboard shortcuts
------------------------------------------------------------------------------
       [PAUSE] - stop/continue game
          [F9] - quick load game state
         [F12] - quick save game state (still stored after leaving the site)
         [F10] - toggle performance meter
         [F11] - toggle fullscreen mode
  [ScrollLock] - quick switch control ports
    [PageDown] - make a screenshot (320x200)