Green Beret
military shoot'em up game for Commodore 64, 1986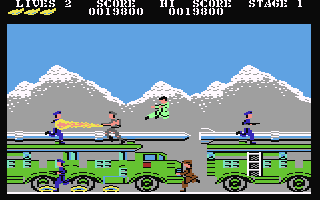 ------------------------------------------------------------------------------
Use Control Port 2.

RESCUE THE CAPTIVES!

You are THE GREEN BERET, a highly trained combat machine. Your
mission; infiltrate all four enemy Strategic Defence Installations -
you are alone, agains immeasurable odds, have you the skill and
stamina to succeed?

CONTROLS

The program is controlled by joystick and keyboard.

JOYSTICK

The Green Beret is moved as follows using a combination of up, down,
left and right.

                 JUMP / GO UP

 GO UP / JUMP BACK \  |  / JUMP FORWARDS / GO UP

             LEFT -       - RIGHT

LIE DOWN / GO DOWN /  |  \ LIE DOWN / GO DOWN

             LIE DOWN / GO DOWN

Fire button - KNIFE FUNCTION

KEYBOARD

Press the SPACE BAR to activate the "SHOOT" weapon.

PLAYING

RED ALERT!
Use the platforms and ladders to advance through four defence stages:
Missile Base; Harbour; Bridge and Prison Camp. Use your knife to
attack the defenders who will jump, kick, shoot and bite! to stop you.

Watch your step - you may become a human "Mine Detector". Dodge the
bullets missiles and mortar attacks along the way. Collect your
weapons systems by killing the commandant.

  Weapons are:          Flame Thrower
                        Rocket Launcher
                        Grenade
Beware! At the end of each stage the enemy will launch a major
offensive using all the means at their disposal.

STATUS AND SCORING

On screen information show current score and lives remaining at the
top left of the screen and high-score and current stage at the top
right.

Any weapons that you may be carrying are graphically displayed at the
top left of the screen. You begin your mission with three lives and
gain bonus lives at 30,000 points and every 70,000 points thereafter.

HINTS AND TIPS

* Avoid the bullets/missiles by lying down or jumping.
* Weapons can be used to destroy more than just the enemy.
* Keep moving or you may have a lot of company.
* Try to save weapons for the end of each stage.
* Watch the skies!


------------------------------------------------------------------------------
Some useful keyboard shortcuts
------------------------------------------------------------------------------
       [PAUSE] - stop/continue game
          [F9] - quick load game state
         [F12] - quick save game state (still stored after leaving the site)
         [F10] - toggle performance meter
         [F11] - toggle fullscreen mode
  [ScrollLock] - quick switch control ports
    [PageDown] - make a screenshot (320x200)