Gridtrap
arcade game for Commodore 64, 1983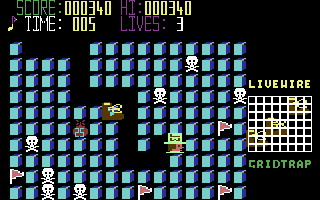 ------------------------------------------------------------------------------
Use Control Port 2.

Gridtrap is a single screen game where you have to move around a grid
of squares to get to bombs to defuse them before a timer reaches zero
for each bomb. As you move, any square you move from disappears so careful
planning of a route to a bomb needs to be taken into consideration.
A boot will also move around the screen that needs avoiding and skulls
cannot be landed on but flags can be collected for bonus points.

Rows of squares can be moved to make paths if there are no more squares
to move on but skulls and flags cannot be moved off screen. If you move
off the edge of the screen then you appear on the other side.
If you touch the boot, land on a skull, or let a bomb explode then
you lose one of three lives (four on the Amstrad CPC) and five bombs
need to be defused to move to the next screen. The C64 version has
a two player option with both players taking it in turns to play when
the other player is killed. The player can also define their own choice
of keys to control the game on the C64.


------------------------------------------------------------------------------
Some useful keyboard shortcuts
------------------------------------------------------------------------------
       [PAUSE] - stop/continue game
          [F9] - quick load game state
         [F12] - quick save game state (still stored after leaving the site)
         [F10] - toggle performance meter
         [F11] - toggle fullscreen mode
  [ScrollLock] - quick switch control ports
    [PageDown] - make a screenshot (320x200)