Hard Hat Mack
single screen platformer game for Commodore 64, 1983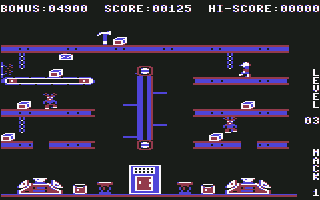 ------------------------------------------------------------------------------
Use Control Port 2.

LEVEL 1

You will have to jump over open holes in the floor that you have not put 
any I-BEAMS in and try to avoid touching the other people there or else 
you will lose that play also you may wish to avoid getting the JACK 
HAMMER because once you get it you can not get rid of it, therefore you 
will not be able to pick up any more I-BEAMS that may still need to be 
placed. If you look on the top floor of the building you may see at 
certain times bonus pieces such as; a DRILL, and a WRENCH. Those just 
add bonus points to your score.

LEVEL 2

On the second level you will find more difficult obstacles such as an 
escalator an elevator and different obstacles on each floor of the 
level. There is only one person to watch out for on this level and he 
will go up and down from one floor to the other via a ladder, however 
you must go past him to get the BOXES that you must put in the opening 
of the lowest floor to the ground.

LEVEL 3

The third level of play may seem easier to some people then the second 
thats because there is no escalator to jump off of in the beginning. You 
start off on the second highest level and you must get from on side to 
the other by riding the elevator or falling off the level and hitting 
the trampoline on the floor, however there are two people to watch out 
for on this level and you must go by both to get the Boxes and put them 
in the opening.


------------------------------------------------------------------------------
Some useful keyboard shortcuts
------------------------------------------------------------------------------
       [PAUSE] - stop/continue game
          [F9] - quick load game state
         [F12] - quick save game state (still stored after leaving the site)
         [F10] - toggle performance meter
         [F11] - toggle fullscreen mode
  [ScrollLock] - quick switch control ports
    [PageDown] - make a screenshot (320x200)