Highnoon
western shoot'em up game for Commodore 64, 1984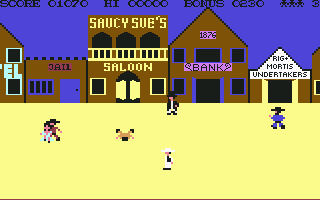 ------------------------------------------------------------------------------
Use Control Port 2.

A sheriff must defend his town against outlaws, who are about to abduct women
from "Saucy Sue's Saloon" or rob the local bank. To defend it, the sheriff
is equipped with his gun, which is used to shoot one of the outlaws.
Shooting can be done in a horizontal, vertical, or diagonal direction.
There are five waves to complete, and the outlaws get tougher after each level,
with outlaws riding horses, blowing up sticks of dynamite,
and hiding behind windows. In Wave 5, the sheriff is out of town and
finds himself outside the entrance of the cave where outlaws emerge from.

In Waves 1 through 4, when an outlaw is killed, the undertaker will
come out from "Rig + Mortis Undertakers" and collects any bodies found
lying around. After each wave, there is a bonus duel between the sheriff
and the outlaw. The sheriff must quickly open fire before the outlaw.

There are 9 skill levels which can be selected before you commence play.

The game also features the theme music from the film High Noon.


------------------------------------------------------------------------------
Some useful keyboard shortcuts
------------------------------------------------------------------------------
       [PAUSE] - stop/continue game
          [F9] - quick load game state
         [F12] - quick save game state (still stored after leaving the site)
         [F10] - toggle performance meter
         [F11] - toggle fullscreen mode
  [ScrollLock] - quick switch control ports
    [PageDown] - make a screenshot (320x200)