International Soccer
football game for Commodore 64, 1983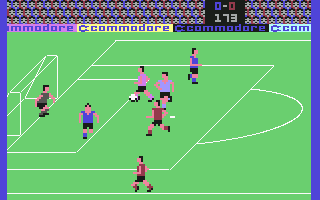 ------------------------------------------------------------------------------
You have to wait a little bit on the white title screen.

Use Control Port 1 and 2.

International Soccer is an arcade action soccer game.
No league or cup tournaments available, only friendly matches
(2 halves at 200 seconds) against a human opponent
or the AI (9 levels of difficulty are offered).
Corner kicks and throw-ins exists, but you can't play foul - so no yellow
or red cards required. The game is played with the joystick;
with your joystick you control the player of your team (7 against 7)
next to the ball (your teammates will be controlled by the AI).
Push the fire button to pass or shot, you can move to all eight directions.

You only see about a quarter of the playing area on screen which automatically
scrolls to the left or right. If the ball comes near to your own goal,
you get automatically control over your goal keeper - hopefully
you can do a brilliant save: after a save the goal keeper needs some time
to get back into action, be fast enough to help him with your fielders.


------------------------------------------------------------------------------
Some useful keyboard shortcuts
------------------------------------------------------------------------------
       [PAUSE] - stop/continue game
          [F9] - quick load game state
         [F12] - quick save game state (still stored after leaving the site)
         [F10] - toggle performance meter
         [F11] - toggle fullscreen mode
  [ScrollLock] - quick switch control ports
    [PageDown] - make a screenshot (320x200)