Jaw Breaker
arcade game for Commodore 64, 1983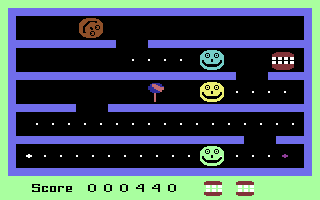 ------------------------------------------------------------------------------
You are...a set of teeth? Well, even as such, you have a strong craving for
sweets that cannot be denied. However, some rogue Jaw Breakers plan to stop
your candy craze by...well, breaking your jaw. So, using your speed and
cunning, you must avoid them and gain all the sweets in the stage!

* Those smiling rolling balls? Those are Jaw Breakers.
Hit one without a power-up and you lose a life.
Next, those tiny white dots and flashing dots(in the corners) are your goal.
Collect 'em all to win. Occasionally, a bonus treat will appear in the center.
Collect it for a slight boost in points. You don't need it to win, though.

* Those flashing dots will turn the screen orange temporarily. While orange,
you may chow down on Jaw Breakers at your leisure. Two notes, though. One, the
screen will turn cyan just before resorting to blue, meaning you had best stop
chasing them. Two, if you eat too many Jaw Breakers, they will vanish...and
your jaw will shatter from the sugar overdose! So don't bite Breakers unless
they are in the way!

* Use the holes in-between the platforms to move up and down.

* Since they will leave you alone afterwards, use the flashing dots to deter
the Breakers momentarily while you snag the rest of the dots.


------------------------------------------------------------------------------
Some useful keyboard shortcuts
------------------------------------------------------------------------------
       [PAUSE] - stop/continue game
          [F9] - quick load game state
         [F12] - quick save game state (still stored after leaving the site)
         [F10] - toggle performance meter
         [F11] - toggle fullscreen mode
  [ScrollLock] - quick switch control ports
    [PageDown] - make a screenshot (320x200)