Jungle Joe
puzzle-platform game for Commodore 64, 2022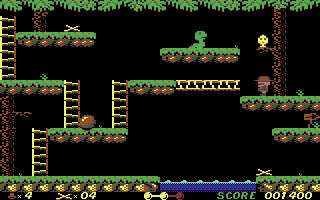 ------------------------------------------------------------------------------
Game play Your objective is very simple, build your path to the level exit by
using ladder pieces. On your way, there are many puzzling choices to make.
Avoid enemies and other hazards. One level is divided into three checkpoints.
When you die or do a restart, the game will continue on that checkpoint in
which you currently are.

Level code

Each level has its own level code which contains also the total idols that you
have collected in the game so far.

Joystick controls

Use the joystick in port 2 to move the player. Change the player's direction
by quickly tapping the joystick on the left or right.

Controls with fire held down:

Hold joystick up   - Build ladders upwards
Hold joystick down - Build girders to the left or right, depending on which
 direction the player is facing
Hold joystick left or right - Use the machete

Keyboard controls You can access the in-game menu with the RUN/STOP key. In
the menu, navigate by using the joystick and make a selection by pressing the
fire button. Press the R key to make a quick retry.


------------------------------------------------------------------------------
Some useful keyboard shortcuts
------------------------------------------------------------------------------
       [PAUSE] - stop/continue game
          [F9] - quick load game state
         [F12] - quick save game state (still stored after leaving the site)
         [F10] - toggle performance meter
         [F11] - toggle fullscreen mode
  [ScrollLock] - quick switch control ports
    [PageDown] - make a screenshot (320x200)