Katakis
space shoot'em up game for Commodore 64, 1988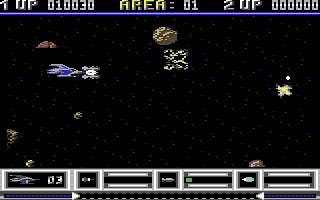 ------------------------------------------------------------------------------
Katakis is the story of the planet with the same name. It was once a booming
paradise for researchers, scientists and inventors. But always have the
humans been the victim of their own intelligence. So the inhabitants of
Katakis created fantastic machines, that should facilitate life. But the
technical wonders developed their own life and devastated the planet.

Now you are called upon to end this going-on. With a DS-H75 Eaglefighter,
which can be upgraded with a satellite and different extra weapons, you try
to get into the centre of the machine town and to destroy the mechanical
enemies.

You control this spacehip through altogether 12 levels, whereby at the end of
each level a huge end boss waits for you to be defeated. Collisions with
asteroids, flying enemies, ground troups and the background need to be
avoided.

Tips

Look closely at the formations and the movements of the enemy, as they almost
always repeat themselves at the same position.

If a container appears, shoot it and pick up the Geega-crystal, as it almost
always carries the correct upgrade for the next section.

If your fighter gets destroyed you always start at one of 2-3 preset locations
in the level!

Beware of the triangle-shaped gliders, as the have the unpleasant talent to
close up also from the left side of the screen and also change the flying
direction.

Gyroscopic mines (stem from green Geega-crystals) are a perfect weapon against
enemies that are located or move on the ground. Every end boss has a
weakness. It shortly flashes when you hit it there.

Every end boss has a special sensitivity for a certain type of weapon and its
use (super shot, short laser hits, etc.) You start again without any upgrades
and special weapons in level 11, no matter how strong your Eagle-Fighter was
in the previous level. So you have to collect the first container to survive
the first attack wave.


------------------------------------------------------------------------------
Some useful keyboard shortcuts
------------------------------------------------------------------------------
       [PAUSE] - stop/continue game
          [F9] - quick load game state
         [F12] - quick save game state (still stored after leaving the site)
         [F10] - toggle performance meter
         [F11] - toggle fullscreen mode
  [ScrollLock] - quick switch control ports
    [PageDown] - make a screenshot (320x200)