Outrun
arcade street racing game for Commodore 64, 1988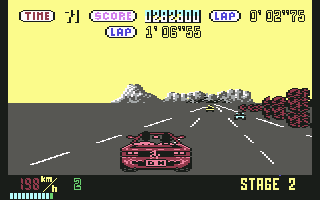 ------------------------------------------------------------------------------
Use Control Port 1.

INTRODUCTION

You're cool, the engine's hot, the girl's gorgeous, a tank full of gas and an
open road... the rest is up to you...! The ultimate experience in motor
sports simulation, the absolute challenge to nerves and reflexes. Feel the
wind in your hair and the pull of the G-force as you power your way along the
highways and byeways, a girl by your side and open country before you.
Experience the exhilaration and excitement of driving a high performance
sports car in this teasing time trial where your co-ordination and nerve will
be tested to unbelievable limits. Out Run the coin-op starred as an arcade
sensation. Out Run the computer simulation mirrors this exciting all action
spectacle.

Background

Taking nine months for numerous programmers to develop the graphic design and
gameplay, OUT RUN must surely be one of the greatest, if not the greatest,
home computer arcade version of all time. The computer game reproduces as
faithfully as possible all of the exciting elements of the OUT RUN arcade
machine. If it was more realistic you would need a driving license to play.
To add to the authenticity, an audio soundtrack from the arcade game is
included for use on your Hi-Fi to recreate that true arcade excitement. SEGA
have sold 2000 video arcade machines worldwide making it the largest selling
dedicated arcade game ever. It is the 5th mobile game developed by SEGA and
is certainly the most successful to date. Although it is no longer in
production, OUT RUN has now become a much sought after addition for those
arcade owners who didn't purchase the machine when it was originally
available. Easily an arcade classic among the elite. 

Audio Tape

Included in this pack is a specially recorded audio soundtrac, taken from the
arcade machine, to be used in conjunction with your program to recreate the
true coin-op excitement while enjoying this exhilarating game. There are
three tracks recorded sequentially; Passing breeze, Splash Wave and Magical
Sound Shower. To use the audio tape, first load your program following the
loading instructions for your computer. Toggle off the music. Insert your
audio cassette, turn up the volume and press play to experience the full
sound effects and make this thrilling audio/visual sensation, while you play
OUT RUN.

Gameplay

Like no other game before it, you try a race against time to achieve your
objective of reaching any one of five goal lines and become a winner. The
course you will take is up to you. Start your engine, grip the controls and
participate in the fastest race ever. Be prepared to dip, curve and increase
your speed as you drive this arduous course. Familiarise yourself with the
controls and GET READY! Use your skill and judgement on this hand to eye
masterpiece to manoeuvre your way past the many obstacles placed in your
path. Avoid collision and try to stay on the road. 

Use of gears

These will help you accelerate, decelerate and manoeuvre through the curves.
Use a low gear to start with until you have gained speed and then open it up
for tremendous acceleration. Keep in a low gear when tackling a curve to hold
the road and shift into high gear for maximum acceleration on the open
straight.

Score

As you drive through each scene, points will be gained for driving well. As
you will observe your points add up instantaneously.

Time

Each race scene needs to be completed within a specific time. The time will
count down as soon as you start the race.

Speed

Your cars' speed will be displayed in kilometers per hour. 

Time Limit

You'll be disqualified if you fail to complete the respective scene within the
designated time limit and you will have to restart. The time limit will vary
but will always be displayed under TIME on the screen.


------------------------------------------------------------------------------
Some useful keyboard shortcuts
------------------------------------------------------------------------------
       [PAUSE] - stop/continue game
          [F9] - quick load game state
         [F12] - quick save game state (still stored after leaving the site)
         [F10] - toggle performance meter
         [F11] - toggle fullscreen mode
  [ScrollLock] - quick switch control ports
    [PageDown] - make a screenshot (320x200)