Pengo
arcade game for Commodore 64, 1983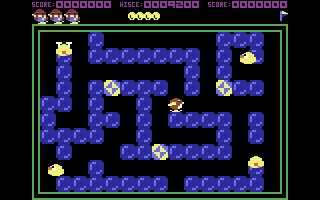 ------------------------------------------------------------------------------
The penguin Pengo needs to survive for 120 seconds in an ice labyrinth. To
fight against the ice bears (in the original they are named snow bees or ice
monsters), there are several methods.

First: Crush ice bears with the help of ice blocks.

Second: Shatter the game area framing at the border (joystick into the
direction of the frame and then press fire button). If ice bears are there,
they fall asleep and can be destroyed by picking them up.

Third: Push together the 3 diamonds vertically or horizontally, to send all
active ice bears to sleep and then collect them.

And finally, also the ice bear eggs can be destroyed. Except for defrosting
the ice blocks, all actions get you points. The faster the diamonds are
brought together and the faster the ice bears are eliminated the highter will
the diamond bonus and the round end bonus be. With rising round number the
number of ice bears, as well the types of ice bears, that can also defrost
ice, gets higher. If Pengo is destroyed by the ice bears, the level starts
again from the beginning! 

Points:

Squash ice bears 400 points (starts with 4 of them in the 1st level, 5 in the
2nd level and so on - this number counts only for the round bonus)

Destroy ice bear eggs 800 points (if this ice block is moved, the egg is lost,
so only defrost ice block with eggs)

Diamonds pushed together 10.000 points (arranged in the middle of the field)
or 5.000 points (arranged at the border without numbing the ice bears)

Round bonus (destroy a certain number of ice bears within 60 seconds)
    Below 10 seconds 6.000 points
    10 - 20 seconds 5.000 points
    21 - 30 seconds 4.000 points
    31 - 40 seconds 3.000 points
    41 - 50 seconds 2.000 points
    51 - 60 seconds 1.000 points

Remember which ice bear you have destroyed.
If you have e.g. destroyed the one from the upper left corner,
it will reappear there again.


------------------------------------------------------------------------------
Some useful keyboard shortcuts
------------------------------------------------------------------------------
       [PAUSE] - stop/continue game
          [F9] - quick load game state
         [F12] - quick save game state (still stored after leaving the site)
         [F10] - toggle performance meter
         [F11] - toggle fullscreen mode
  [ScrollLock] - quick switch control ports
    [PageDown] - make a screenshot (320x200)