Red Max
motorcycle racing game for Commodore 64, 1987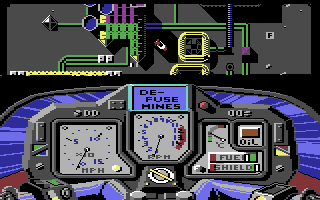 ------------------------------------------------------------------------------
Use Control Port 1.

The survivors of the Global War had a new problem to face, the Sun had begun
it's Super Nova cycle and a solution had to be found and implementing in a
couple of years. The solution was to colonise the Moon and create huge
anti-gravity orbs to send the Moon towards the Sun and when it was close
enough, the orbs were activated to send the moon into deep space. The plan
was a success and now the humans who live on the moon are in hibernation for
1200 years hoping the Moon will find a new Solar System and a new Sun to
orbit.

You are woken from your hibernation as an alarm goes off telling you that
renegade Death Lords have landed on the moon and planted 27 fission mines on
the surface and disrupted the power supply. You must climb on your space
motorbike and defuse all the mines before going below the surface to turn on
eight nuke-core cooling systems, shut down four power plants and awake nine
crew members to fight and defeat the Lords. Your motorbike has a fuel gauge
that decreases but fuel can be found and used to keep it topped up.

The game is viewed from above with a small part of each level shown on the
screen and the screen scrolls in all directions when you move. As well as the
mines to find, there are various switches that need turning off and on to
progress through the game and be careful using laser gates that turn on and
off. Any electrical fences switched off keeps the fence switched off for a
short while before turning back on so care must be taken not to get trapped.
There is also slime that decreases your shield and need to be avoided. If
your shield or fuel runs out, or you touch the electrical fences then you
lose one of three lives.


------------------------------------------------------------------------------
Some useful keyboard shortcuts
------------------------------------------------------------------------------
       [PAUSE] - stop/continue game
          [F9] - quick load game state
         [F12] - quick save game state (still stored after leaving the site)
         [F10] - toggle performance meter
         [F11] - toggle fullscreen mode
  [ScrollLock] - quick switch control ports
    [PageDown] - make a screenshot (320x200)