Repton 3
arcade collect'em up game for Commodore 64, 1987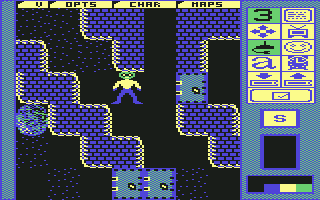 ------------------------------------------------------------------------------
Use Control Port 2.

COLLECTABLE OBJECTS

DIAMONDS are the main objectives of a level. All diamonds must be
collected before a level can be completed.
THE CROWN is another collectable object. Every level has one, which
must be collected before a level can be completed. NUM: 1
THE TIMEBOMB must be defused (by walking into it) after every other
objective has been obtained; this completes the level. NUM: 1
KEYS open all safes on a level (turn them into diamonds) when they
are collected. Collecting a second key has no effect. Note that
since diamonds are "curved" objects (see BOULDERS, below) but safes
are not, collecting a key may sometimes destabilise a boulder.
TIME CAPSULES reset the level's time limit when collected.
EARTH is harmless. Monsters and spirits can move through it.

OBSTACLES

WALLS are simple immobile and indestructible obstacles.
SKULLS are equivalent to walls, but kill Repton if he attempts to
walk into them.
BOULDERS can be pushed horizontally, and fall downwards if they
are manoeuvred above an empty space or if another object is removed
from below them. They also "roll" around the corners of curved
objects. Repton can stand below a boulder, but if one falls from a
height onto him he will die.
EGGS are equivalent to boulders, but once they fall any distance
they will crack and after a time a MONSTER will emerge. MAX: 4
SAFES are obstacles until a key is obtained (see above).
CAGES are obstacles until a spirit enters them (see below). MAX: 8

NASTIES

MONSTERS emerge from eggs and try to follow Repton around the level.
They can be destroyed by running a boulder (or egg) over them. All
monsters must be killed before a level can be completed.
SPIRITS move around by following the walls (or other obstacles) on
their left-hand side. When a spirit enters a cage, it is transformed
into a diamond. MAX: 8
FUNGUS slowly expands into empty space as long as it is free to do
so. An area blocked off by fungus cannot be unblocked again.

TRANSPORTERS move Repton to another square on the level when he
steps into them. Each transporter has a fixed destination; it will
malfunction and kill Repton if the destination is not empty. If
Repton dies after using a transporter on a level, he will be
returned to the destination of the last transporter he took rather
than to his initial location on that level. MAX: 4.


------------------------------------------------------------------------------
Some useful keyboard shortcuts
------------------------------------------------------------------------------
       [PAUSE] - stop/continue game
          [F9] - quick load game state
         [F12] - quick save game state (still stored after leaving the site)
         [F10] - toggle performance meter
         [F11] - toggle fullscreen mode
  [ScrollLock] - quick switch control ports
    [PageDown] - make a screenshot (320x200)