Salamander
shoot'em up game for Commodore 64, 1988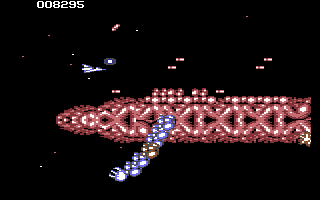 ------------------------------------------------------------------------------
Beyond infinity lies the evil galaxy dominated by the forces of the
despotic SALAMANDER. A hero must persuade his compatriots to join
him on a journey into hell and beyond. Organic Monsters of destruction,
Nuclear Spiders, Infernos burning like raging seas in torment, Caverns of
Despair, Demons beyond the dimensions of our minds...

NOW IS THE TIME... YOU ARE THE HERO

The ultimate objective is to destroy a huge brain which controls the
Salamander's domain. To achieve this, you have three space-ships that
possess limited weaponry but have the capability to multiply their
fire-power four times. Each of the 4 levels is made up of different types
of terrain and opponents. At the end of which is a large and very
powerful enemy who must be destroyed before you can continue.

CONTROLS

Control is via the joystick in Port 2. The keyboard can be used to turn
Music on or off (M), or to Pause the game (P).

Play is always one player against the computer.

                                     UP
                                     |
                                     |
                          LEFT ------+------ RIGHT
                                     |
                                     |
                                    DOWN
FIRE - FIRE

GAME PLAY

As your ship races into the start of level one, learn the best position
to destroy all of the waves of aliens. Each of these early waves will leave
behind a bonus weapon if you destroy the whole row. In this way you
can start the game with enormous weapon power. With Ripple Lazers
and Missiles plus two multiples very few aliens can stand in your way,
but be careful! Death normally comes rapidly to those who are
overconfident or just a little bit too greedy.

This first level consists of a t least five distinct terrain types and the best
way to survive is to adapt your playing style to suit each one as it comes
hurtling by your ship. If you are quick enough to grab the shield token at
the start of the level, you are rewarded by a partial protection against
the hostile aliens - but again be careful, fo the shield will only protect
you against a few hard collisions - and when it starts to pulse rapidly it
means it can only take one more hit.

To beat the Salamander you will require cunning, dexterity and may be a
little luck - but always remember - who knows what is approaching
around the next corner?

STATUS AND SCORING

The information on the screen during play is limited to a score line
showing the player's current score. When a new ship is brought onto
the screen, the number of ships remaining appears next to it.

A hi-score table is displayed at the end of the game. And it also
alternates with the title screen before play commences.

Points are scored for killing aliens and collecting bonus weapons. Points
are awarded even if the player already has a particular weapon.

HINTS AND TIPS

*   Always collect bonus weapons.

*   Try to shoot all of the a wave of aliens for bonus, generally shoot
    anything of a contrasting colour: This colour indicates weak places
    where an alien can be killed easily.

*   Do not collect too many speed-up tokens or the ship may move too
    fast for good control.


------------------------------------------------------------------------------
Some useful keyboard shortcuts
------------------------------------------------------------------------------
       [PAUSE] - stop/continue game
          [F9] - quick load game state
         [F12] - quick save game state (still stored after leaving the site)
         [F10] - toggle performance meter
         [F11] - toggle fullscreen mode
  [ScrollLock] - quick switch control ports
    [PageDown] - make a screenshot (320x200)