Super Mario Bros.
legendary arcade platform game for Commodore 64, 2019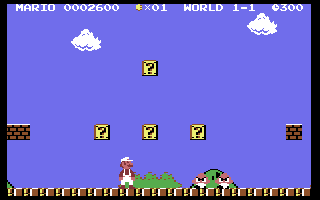 ------------------------------------------------------------------------------
The Princess has been kidnapped by the evil Bowser, and it is up to Mario and
brother Luigi to save the day.

The first-ever platform adventure for the Mario Brothers has the player
exploring level after level, with Bowser to contend with as the end of level
boss. Power-ups include the Super Mushroom, which increases Mario's size and
power, the fire flower, allowing him to shoot fireballs at enemies, and the
ever-important starman for a short burst of invincibility.

Each level includes a bonus section filled with coins plus a shortcut through
the level, plenty of bad buys and obstacles to get past, and an end-of-level
flag, in which the higher the player grabs it, the more points are awarded to
them. Certain levels also include warp points, which take the player to
higher levels.


------------------------------------------------------------------------------
Some useful keyboard shortcuts
------------------------------------------------------------------------------
       [PAUSE] - stop/continue game
          [F9] - quick load game state
         [F12] - quick save game state (still stored after leaving the site)
         [F10] - toggle performance meter
         [F11] - toggle fullscreen mode
  [ScrollLock] - quick switch control ports
    [PageDown] - make a screenshot (320x200)