Boulder Dash
collect'em up gravity puzzle game for Commodore 64, 1984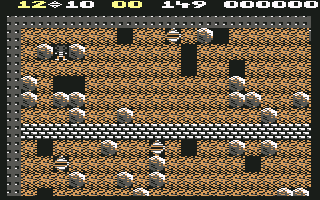 ------------------------------------------------------------------------------
To get to the Menu Screen, press F1
Press F3 for number of Players and Control Options
Move joystick left or right to select Cave
Move joystick up or down to select difficulty level
Press RUN/STOP to restart a Cave
Press SPACEBAR to pause/resume play

GAME OBJECTIVE

The objective of Boulder Dash is to search throughout each CAVE and collect
as many Jewels in as short a time as possible. Once the indicated amount of
Jewels have been collected, the door to the mysterious escape tunnel is
revealed and you go to the next level. Strategy and planning will help you
master the "physics" of Boulder Dash. Boulders drop predictably enough,
but you and Rockford also have to block growing Amoebas, transform Butterflies,
outmanoeuvre Fireflies, and overcome other numerous obstacles. 

CHANCES

Each player starts with 3 chances. Bonus tries are awarded after
every 500 points. The tunnels created by Rockford will "shimmer" 
when you are awarded a bonus try. A bonus is also earned by completing
a Playable intermission.

CAVES AND LEVELS

There are 16 CAVES, each comprising of several scrolling screens,
numbered A to P. Each CAVE has 5 Difficulty Levels. To select a different cave,
move the joystick arm left or right when you are in the menu screen.
To select a different Difficulty Level, go to the menu screen and
move the joystick arm up or down. The greater the difficulty the less time
you have and the more Jewels you have to collect.
You may choose CAVE A, E, I or M, on Difficulty Levels 1-3.
On Difficulty Levels 4 and 5, you must start with CAVE A.  
After making a selection, press the joystick trigger to begin the game.


------------------------------------------------------------------------------
Some useful keyboard shortcuts
------------------------------------------------------------------------------
       [PAUSE] - stop/continue game
          [F9] - quick load game state
         [F12] - quick save game state (still stored after leaving the site)
         [F10] - toggle performance meter
         [F11] - toggle fullscreen mode
  [ScrollLock] - quick switch control ports
    [PageDown] - make a screenshot (320x200)