Europa
educational game for Commodore 64, 1984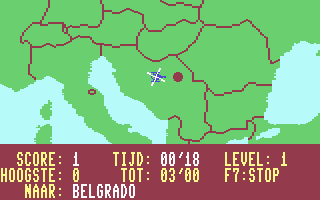 ------------------------------------------------------------------------------
Use Control Port 2.

Topografie Europa is an educational computer game which teaches the locations
and names of cities, towns, regions and rivers of Europe.

There are 3 modes, which are Opzoeken (Look up), Overhoring (Quiz),
Het Stedenspel (The City Game). The game contains a mid 1980s map of Europe,
as evidenced by countries such as East Germany, West Germany,
Yugoslavia and Czechoslovakia. It contains many names and locations
of cities, rivers and seas.

In Look Up mode you can type the name of a city or sea and the game will
point it out on the map. In Quiz mode, the game will point a randomly selected
place and the player must type in the name on time. The helicopter mode is
the main part of the game. The player controls a helicopter and must fly
to a randomly selected city or location before the time runs out.
When the helicopter is close enough to the target city or location,
it will turn into a pulsating red dot.

Additionally there is an information browser which shows data per country
or a bar graph comparing all countries. The data includes the area in
square kilometers, population, agriculture, industry and service industry data.


------------------------------------------------------------------------------
Some useful keyboard shortcuts
------------------------------------------------------------------------------
       [PAUSE] - stop/continue game
          [F9] - quick load game state
         [F12] - quick save game state (still stored after leaving the site)
         [F10] - toggle performance meter
         [F11] - toggle fullscreen mode
  [ScrollLock] - quick switch control ports
    [PageDown] - make a screenshot (320x200)