Flimbo's Quest
action platform game for Commodore 64, 1990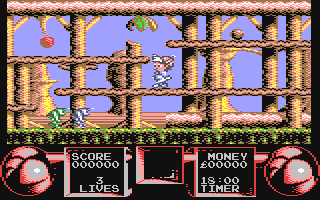 ------------------------------------------------------------------------------
DAZZ BAZIAN'S SHOP

In  Dazz  Bazian's  shop you can exchange money for the different
items  he has on display,  these are shown as icons at both sides
of  the screen.  As you enter the shop any hearts and scrolls you
are  carrying  will automatically be taken from you and displayed
on the screen. In the case of items like invulnerability potions,
if you already have one of these then the appropriate icon on the
screen  will  appear  with  a  cross  over it.  If you try to buy
something  you  have,  then  Dazz  will tell you that you have it
already.

The order of the icons are:
SUPER  SCROLL,  EXIT  SHOP,  SUPER  WEAPON,  SCROLL,  EXTRA TIME,
INVULNERABILITY.

By  moving the joystick, each icon can be highlighted in turn and
pressing the fire button will select that item. If it has a value
the  cost  will  be deducted from Flimbo's purse -- if you do not
have sufficient money then Dazz will have something to say.

The costs of the different items are:

Super Weapon     350
Extra Time       300
Invulnerability  250
Scroll           400
Super Scroll    2500

THE GOODIES...

Super Weapon  --  gives you greater range and power of the weapon
you already have for example, a mutant that requires two or three
shots  normally  can  be  destroyed  with one shot from the super
weapon.

EXTRA TIME  --  slows down the recharge time of Fransz Dandruff's
machine therefore giving you extra time to rescue Pearly.

INVULNERABILITY  --  having  this will protect you from attack by
mutants,  but  only  for  a  short period of time.  When you have
invulnerability  Flimbo's  face  turns  green  and  while in this
condition  you  can  destroy mutants just by colliding into them.
To  warn you when the effect is about to wear off,  Flimbo's face
will begin to flash.

SCROLL  --  Buying one or more scrolls to complete the magic word
is useful if time is running short -- remember, it's much cheaper
if you can find, and kill, the creatures that carry scrolls.

SUPER SCROLL  --  like  the ordinary scroll,  it turns into magic
letters  when  given  to  Dazz,  except  this  is a complete word
thereby  allowing  you to move onto the next world as soon as you
have  it  (very  useful  when  time  is running short -- but very
expensive),  can  also  be collected from a mutant,  but they are
quite rare to see.

On display behind the counter in the shop are two vital pieces of
information.  First, the magic letters you have already collected
so  you  know  how many more you need to get into the next world.
Second,  the  number  and  colour of hearts you have collected --
this  helps  you work out what other colours you need in order to
get an extra life.

You  must  remember  that  some  creatures  that  you  kill  will
occasionally  turn  into the above items,  so saving you a lot of
money.

Hint:  although  the  Super  Weapon  is  usually  at  the  top of
everyone's  shopping list,  you should also seriously think about
how much time you have left to rescue Pearly.

DOORWAYS

There  are  lots  of doorways, caves and other types of entrances
dotted  around  the  landscape of Dandruff's estate.  It is worth
trying  them  all  by standing in front of them and pushing up on
your joystick. At some entrances etc. nothing at all will happen,
others may lead into one of Dazz Bazian's shops  (these are worth
making a note of as there is only one per world). The best of all
are the ones leading to secret rooms.

Hint:  it  pays  to  try and find out which entrance is to Dazz's
shop as quickly as possible.

SECRET ROOMS

In secret treasure rooms you will have the chance to accumulate a
lot of money.  Placed on shelves around the room there are either
coins  or  money  bags.  Normally  these  are only a low value of
money, but if you watch carefully then you will see that randomly
the value of one object changes.

To  collect the money in the room all you have to do is touch the
money  with  any  part of Flimbo.  In order to get the most money
possible do not just run around the room collecting everything --
look  around the room for the object that has changed to a higher
value, indicated on the C64 Games System, by a different coloured
coin.

To  get  the  high value objects,  carefully jump over the others
until  you  reach  the one you want.  When an object changes to a
higher  value  it  stays  that  way  till  you have collected it.
Remember, more money -- more purchases from Dazz Bazian.

Hint:  do not spend too much time in the secret rooms -- time can
be more precious than money!

SCROLLS

Look  out  for mutants carrying scrolls.  You have to collect the
scrolls  and  take  them to Dazz Bazian's shop.  Once there,  the
scrolls turn into letters which will spell a magic word. When the
word  is complete you can move on to the next world by finding an
exit doorway.  The first world's word is only three letters long,
as you travel through other worlds the magic words become longer.

To  identify which creatures are carrying scrolls,  a mug shot of
the  species is displayed in the status area and in Dazz Bazian's
shop.  Also,  the individual creature who has a scroll flashes on
the C64 Games System.

JOYSTICK CONTROLS

Left and right -- Moves Flimbo to the left or the right.
Up -- Makes Flimbo jump up.
Down -- Flimbo comes down from a platform.
Fire Button -- Fires Flimbo's weapon.
Fire Button and Down -- Flimbo ducks down.

Hint: there are some scrolls hidden around Dandruff's estate, its
always worth ducking down to see what you may find!


------------------------------------------------------------------------------
Some useful keyboard shortcuts
------------------------------------------------------------------------------
       [PAUSE] - stop/continue game
          [F9] - quick load game state
         [F12] - quick save game state (still stored after leaving the site)
         [F10] - toggle performance meter
         [F11] - toggle fullscreen mode
  [ScrollLock] - quick switch control ports
    [PageDown] - make a screenshot (320x200)