Kaktus
arcade shooter game for Commodore 64, 1983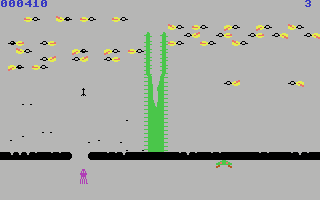 ------------------------------------------------------------------------------
Use Control Port 2.

In the desert, the giant cactus is now becoming extinct and it is your task
to save one of the last few that remains in this single screen shooter.
Viewed from the side, you control an insect/gun that sits on the bottom
of the screen underground with the cactus in the middle of the screen.
Through two holes in the ground you must blast the wasps and hornets
that move across the screen advancing downwards, either side of the cactus,
to stop them eating the bottom of the cactus.

As you blast the insects, they will drop droppings which are acidic
and dissolves part of the ground and must be avoided by yourself.
You are able to go onto the surface but you can now be hit by an insect
if it gets to ground level, and also a mole moves underground filling
in any holes and can leave you trapped on the surface of the ground.
If you get hit by an insect, it's droppings or a mole then you
lose one of three lives. It is game over if you allow the base
of the cactus to be eaten or it falls over from the ground being dissolved.


------------------------------------------------------------------------------
Some useful keyboard shortcuts
------------------------------------------------------------------------------
       [PAUSE] - stop/continue game
          [F9] - quick load game state
         [F12] - quick save game state (still stored after leaving the site)
         [F10] - toggle performance meter
         [F11] - toggle fullscreen mode
  [ScrollLock] - quick switch control ports
    [PageDown] - make a screenshot (320x200)