Lady Tut
door rotating arcade maze game for Commodore 64, 1986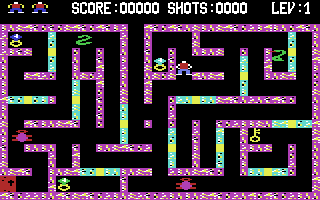 ------------------------------------------------------------------------------
Use Control Port 1.

Welcome! Your job is to navigate the 9 catacombs that lead to Lady Tut's Tomb.
Unfortunately, there are several beasts below, and the path is locked by
multiple doors. You are equipped with an energy gun. Unfortunately, the
charge on it is dead and can only be powered through ancient jewels that can
be found in the tomb. Still, how hard could it be.......?

The catacombs are a nasty place. Unfortunately, you cannot use your gun until
at least the third level. Even worse, it only fires to the sides, leaving you
unprotected from the top and bottom. However, you can protect yourself with
"rotating doors". They look like walls with a distinct color change. You can
push these to help avoid the creatures. Also, be on the look-out for rings.
Each one gives you some shots(random each ring) and a point bonus. Once you
have 90 or so shots, you may use your gun.

You don't have to kill everything. In fact, the monsters will keep coming
back no matter how many you kill. However, it is a good idea to eliminate
anything that walks in your way.

Enemies will not touch your starting point or any place where a ring, key or
door was. Use these places as "safe spots" from monsters....You'll live longer.

At first, rings are as important as keys. But once you get the gun, rings
become optional.

Monsters always appear from the same areas and always have the same limit
per level. Don't worry about a snake appearing out of nowhere, or the screen
having 20 skulls running rampant.

Remember, there is no timer. You can stay in a safe spot for hours and never
be penalized for it. So if it looks too dangerous, just wait a while for it to
clear out.


------------------------------------------------------------------------------
Some useful keyboard shortcuts
------------------------------------------------------------------------------
       [PAUSE] - stop/continue game
          [F9] - quick load game state
         [F12] - quick save game state (still stored after leaving the site)
         [F10] - toggle performance meter
         [F11] - toggle fullscreen mode
  [ScrollLock] - quick switch control ports
    [PageDown] - make a screenshot (320x200)