Slapshot Hockey
two player ice hockey game for Commodore 64, 1985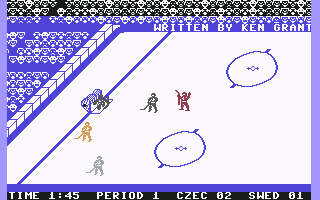 ------------------------------------------------------------------------------
Use Control Port 1 and 2.

Slap shot is a fast action, one or two player ice hockey game. The rules are
the same as in any ice hockey game. There are 3 three minute periods in the
game. To score you must take and maintain possession of the puck, skate down
ice to your opponent's goal and shoot the puck into the net. Your opponent
will attempt to steal the puck from your player in the following ways by
out-skating you, manoeuvring across your path, intercepting a pass or
by "checking" the player. The puck can be passed from player to player in a
number of directions and at varying speeds, It is also possible to control
the strength of a bodycheck on your opponent: however, you will be penalized
for unnecessary roughness if you check too aggressively.

Ice Hockey is an international sport recognised as one of the roughest and
most demanding of team sports. But more than brute strength is needed to
excel at this game. Strategy, skill and quick reflexes combine to create
winning plays. You too can enjoy the challenge and excitement of ice hockey
with this realistic program that puts you "on the ice".


------------------------------------------------------------------------------
Some useful keyboard shortcuts
------------------------------------------------------------------------------
       [PAUSE] - stop/continue game
          [F9] - quick load game state
         [F12] - quick save game state (still stored after leaving the site)
         [F10] - toggle performance meter
         [F11] - toggle fullscreen mode
  [ScrollLock] - quick switch control ports
    [PageDown] - make a screenshot (320x200)