The Forever Extending Hungry Snake
arcade game for Commodore 64, 2020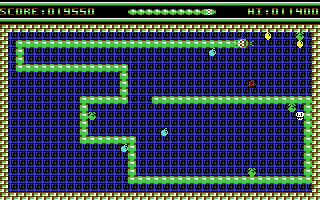 ------------------------------------------------------------------------------
You are a forever extending hungry snake (as the title says it all). Your task
is to go around the game arena and gobble up the tasty fruit in order to
score points in 100's. For every time your snake grows, you get 10 points
added to your score. Avoid letting any part of your snake touch the walls ,
the skulls, or eat itself otherwise the game will be over.

There is help at hand during play. By pressing the FIRE button, while your
snake is moving. You can make it stop. However, be very careful how you stop,
because if you dither for too long while waiting for fruit to grow inside the
arena - you could end up crashing into a skull or a wall, or perhaps try to
eat yourself.

SCORING:

50 points per growth of the snake
BANANA (Yellow): 100 points
LEMON (Yellow): 200 points
CHERRIES (Red): 300 points
PLUM: (Purple): 400 points
APPLE (Green): 500 points
BOMB (Cyan): Complete clears the arena, and sheds the snake completely:
             200 points

Try to rake up as many points as you possibly can,
and achieve a high score where possible.


------------------------------------------------------------------------------
Some useful keyboard shortcuts
------------------------------------------------------------------------------
       [PAUSE] - stop/continue game
          [F9] - quick load game state
         [F12] - quick save game state (still stored after leaving the site)
         [F10] - toggle performance meter
         [F11] - toggle fullscreen mode
  [ScrollLock] - quick switch control ports
    [PageDown] - make a screenshot (320x200)